4:39 PM Last night I was here with my family, attending a concert for the living legend Jagjit Singh. The venue was Prudential Hall at NJPAC in Newark, NJ. It was beautiful, and before the show started, I was staring at the stage and thinking about all the hard work that went into setting everything up. From the three giant flower vases to the background painted by light on the stage; from the microphone setup and pillow and cushion placement for the performers to the one-foot high platform on the stage on which the performers sat, everything was well thought out and executed.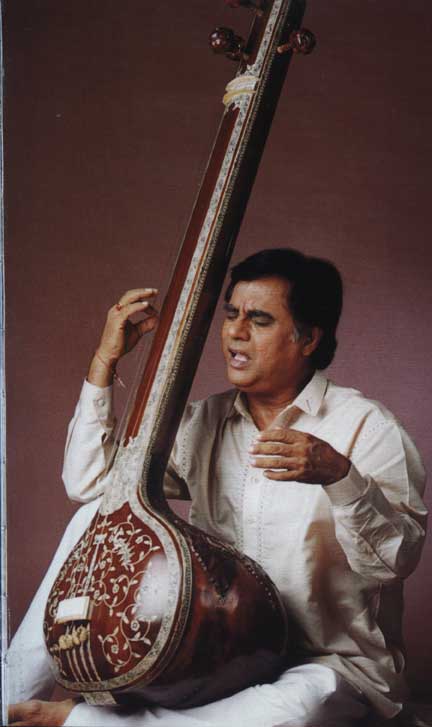 The show itself was alright. I was disappointed that he didn't play many ghazals and chose to perform more of his mainstream hits from films, like "Chitthi na koi sandesh" from Dushman and "Hoshwalon ko khabar kya" from Sarfarosh. It was no doubt what the audience-as-a-whole desired, because the mainstream hits received a much bigger response in applause than the few ghazals he did sing. At least he didn't neglect to sing "Hoton se choo lo tum" (also from a film, Prem Geet), one of his most touching and popular compositions.
The show ended at midnight. My parents observed that when they saw him 10 years ago, even though the venue was less posh and crowd more rowdy, he sounded slightly better and the show went on till 1:30 – 2 in the morning. The worst thing about it was probably that he routinely kept looking at his watch, giving the impression that he was in a hurry or didn't want to be there.
He was funny and interactive with both the audience as well as his accompanying performers on the flute, violin, electric and acoustic guitars, and dholak and tabla. Every time the flute player would play he would motion for him to play louder.
This is perhaps Jagjit Singh's last time on tour, so I'm lucky that I got to see him live at all.
4:32 PM I've been bothered by the advertising hook of "homemade" for some time now. It's generally used in reference to food and cooking, but it makes me ask: If homemade is so great when it comes to food, why are so many restaurants in the world and so many restaurant-goers? Why do advertisers think "homemade" will appeal to the consumer, when the fact is that most of them are probably average cooks at best? What percentage of consumers could have grown up in a house where Mom loved to cook and was great at it, so that "homemade" actually works to convince them to buy a product or visit a restaurant?
To me, whenever I hear something about homemade on TV, it screams something like: Leave home and come buy our product or visit our restaurant for that homemade taste.